In positive news, we just received a fresh notice to resume work on our deep retrofit project with Toronto Community Housing. It's a good time to reflect on the challenges and opportunities that have arisen over the past months. My last update was back in February when the retrofitting of 120 town homes in Toronto's Monarch Park neighbourhood was about halfway complete. Of course, the world has changed since then.
In the middle of March, most of the crew hung up their toolbelts when we made the decision to stop all interior work in order to protect residents and workers. We were able to complete some outside work—primarily compressor setup and installing line set covers—but that was limited. As interior work resumes this week, safety will continue to be the focus.
How retrofits lead to resilience
The new normal of spending more time at home underscores the importance of this deep retrofit project for the families who live there. They will benefit from lower utility costs and improved indoor environmental quality when the work is completed. In particular, the introduction of efficient suite-wide cooling with the new air-source heat pumps will significantly improve comfort, especially during the extreme heat events we are seeing more often over the summer months. In picking up where we left off, we need to work quickly to bring cooling to these homes before the hottest weather arrives.
This project is exactly the type of deep, multi-measure retrofit that would have created more resilience (and comfort) in a global pandemic. High-performance, resilient buildings can mitigate extreme temperature and weather events and promote passive survivability. These buildings are often airtight and provide clean, fresh air through mechanical ventilation systems that exhaust and recover heat from stale air. Unfortunately, deep retrofits will be the most challenging to deliver with physical distancing and when many of us are spending (so, so, much) more time at home.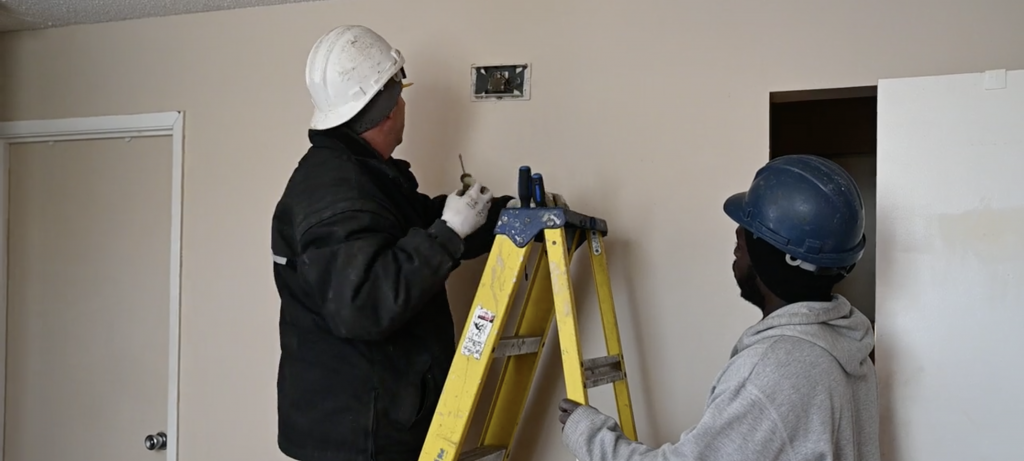 The next chapter needs an equity focus
We're learning how COVID and climate change have worked to exacerbate existing inequities, stimulus projects like deep energy retrofits must have equity at their core. We can look to organizations like Building Up (a non-profit organization that has trained and employed over 300 people experiencing barriers to employment) and the Community Benefits Network to guide this aspect of the work.
Most importantly, we need public funding that adequately reflects the many public benefits that will be created. Full-service retrofit programs can help housing providers get ready to roll out projects that improve the quality of housing.
When the pandemic is behind us, it is likely that more of us will place greater value on homes that are healthy, comfortable, resilient, and efficient. Everyone deserves to live in healthy homes like this—owners, renters, and residents of long-term care facilities. Retrofits can develop and strengthen these qualities in our buildings. I could go on and on about how retrofits are needed to build resilient homes for everyone, but it's time to get back to work – I'll write again.
Check out other posts in the retrofit diary series.