By Juan Sotes
After Ontario's successful coal phase-out, more than 90% of our electricity is produced carbon free. This is great news: a carbon-free electricity supply is fundamental to meeting the long-term emission-reductions targets set by the TransformTO climate plan and to minimizing climate change.
However, the news is not all good: the remainder of electricity generation comes from natural gas, especially during peak hours, when the other electricity sources can't provide enough power to meet demand. Natural gas is cleaner and cheaper than coal, but it's still a significant source of carbon emissions, and while it supplies a small share of electricity in Ontario, it is disproportionately likely to be the marginal resource (the generating resource that responds to changes in demand), increasing from 7% of total generation to 30% of marginal output.
This high use of natural gas as the marginal generating resource can be explained by the fact that 60% of our generation is provided by nuclear power, which has very limited capacity to adjust output and is producing most of the time at maximum capacity, while wind and solar generation is variable and can't increase supply at will to meet demand. That leaves us only with a portion of hydro generation, imports, and natural gas to satisfy the variable demand of the system.
With population and electricity demand expected to increase over the next 15 years, the proportion of natural gas generation on the grid is expected to grow significantly. Ontario's electricity-related emissions are forecasted to gradually triple from 3.35 MT CO2e in 2018 to 10.90 MT CO2e in 2035. That increase is like burning 100 CN Towers made of coal – every year!
With this in mind, we shouldn't relax and think that we have already done enough with the coal phase-out. Initiatives to increase electricity conservation, storage, or renewable generation are still necessary, and will have a significant impact on reducing our carbon emissions over the next decades.
Helping you understand marginal emissions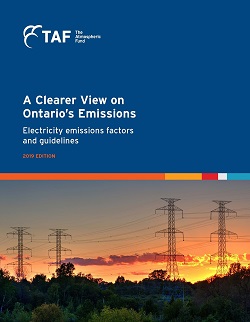 Because of the above-mentioned particularity of Ontario's electricity mix, potential changes in demand have a larger impact in emissions than what we might think. To properly capture the real impact of our actions, when quantifying electricity-related emissions, different factors should be used depending on the purpose of the analysis:
To understand current or historical emissions, such as with a carbon inventory for an organization or city, we should use average emissions factors, such as the ones reported by Canada to the UN in the annual NIR
To evaluate the carbon impacts of an actual or potential change, such as a project, policy, or infrastructure decision, marginal emissions factors are recommended
Since natural gas generation is expected to increase over time, forecasted emission factors are recommended to properly capture the impacts of long-term projects.
TAF has developed a series of electricity emissions factors and a guide on how to use them, that will be especially helpful for Ontario's provincial and municipal policymakers, engineers, scientists, electricity industry professionals, and non-profit organizations involved in the quantification of carbon emissions.
I welcome your thoughts on this guide: jsotes@taf.ca.