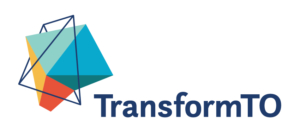 TransformTO is the City of Toronto's plan for how it intends to reduce carbon emissions. We helped to create the plan and now help to advance it.
TransformTO is the plan for how the City of Toronto can reduce carbon emissions by 80 per cent by 2050 (over 1990 levels) while simultaneously creating community benefits such as improved public health, local jobs, and greater social equity. TransformTO was adopted in 2017. The Atmospheric Fund and the City of Toronto Environment & Energy Division jointly advance TransformTO and Toronto Public Health provides key leadership.
Plan came out of wide community involvement
The City of Toronto's Environment & Energy Division and TAF launched and co-directed efforts to create a long-term strategy to reach the City's 2050 climate goal. A 35-member community advisory group supported the strategy formulation with key advice and additional research. TAF, along with the City of Toronto and the Federation of Canadian Municipalities, provided funding for the planning phase of TransformTO.
TransformTO sets out action-specific emission reduction goals for the entire city, provides pace-setting leadership goals for the City of Toronto corporation and recommends shifts in current approaches to help ensure the plan is well-integrated with community needs and interests. The TransformTO plan has many goals around energy use, transportation, buildings and waste that will shape how our communities grow.
Key goals:
By 2030, all new buildings will be built to produce near-zero greenhouse gas (GHG) emissions
By 2050, 100 per cent of vehicles in Toronto will use low-carbon energy; 75 per cent of trips under 5 km will be walked or cycled
The City's leadership goals include:
100 per cent of new City-owned facilities will be near zero carbon emissions by 2026
24 megawatt installed capacity of renewable energy on City property by 2020
45 per cent of City-owned fleet will be low-carbon vehicles by 2030
Net zero waste achieved at all City-owned facilities by 2030
Top three strategies to reach TransformTO targets:
Improving building energy efficiency
Adoption of electric vehicles
Community or district energy
Collaborative approach
The long-term modelling underpinning the TransformTO strategy development showed that Toronto's 2050 emissions goal is achievable with existing technologies but bold action is required. We need to increase the scale and pace of change. Neither the City nor TAF can do this alone, so we must work with the whole community to take on this challenge. When we engage and tap into community intelligence and resources, we can design climate actions in ways that create valuable co-benefits for residents, for example increased mobility, cleaner air, and improved resident comfort.
Get involved
To get involved in TransformTO:
Subscribe to the City of Toronto TransformTO newsletter
Contact Mary Pickering, VP, Programs & Partnerships, at 416-392-1217 or mpickering@taf.ca
Sign up for TAF's 80×50 e-news, which includes TransformTO coverage