"Think Big" is a mantra we use when we want to make truly transformational changes in our cities – like creating a world-class public transportation system in the Greater Toronto and Hamilton Area (GTHA). But is our big-thinking habit getting in the way of excellence in implementation as we fail to consider critical local-level impacts and aspirations? And how can we learn from regional transit planning as we embark on an ambitious climate plan for Toronto with TransformTO?
The Pembina Institute explored the conundrum of big picture transit planning vs. local concerns in its report "Getting on Board – Learning from planning and engagement around rapid transit projects in Ontario." Understanding the experience and concerns of local communities  slated to host new infrastructure projects is critical for success, author Lindsay Wiginton  concludes. To understand this issue more fully, she examined and critiqued the planning and engagement processes surrounding four rapid transit projects taking place in Mississauga, Ottawa, Hamilton, and the Waterloo Region.
Traffic disruption and road closures during construction, loss of traffic lanes and/or parking space and consequent negative impacts on local businesses are some of the issues that concern communities when it comes to transit projects. But it's more than local concerns: the erosion of trust in government, high-profile public debates and delays related to transit issues have all contributed to a sense of mistrust and increased expectations regarding transparency and accountability for public projects.
The good news: a lot is being done right in the four test cases. From door-knocking in Hamilton to landowner and developer working groups in Ottawa, the report showcases how best practices are applied. It also offers advice that centres on the importance of a robust engagement process that goes the distance and that supports and embraces local leadership.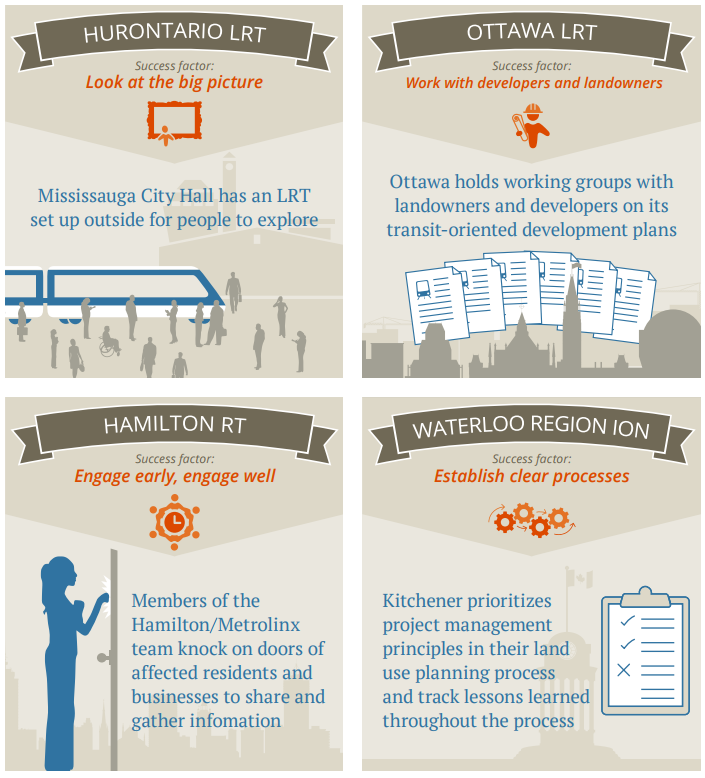 This report is great reading for all of us who are embracing the critical role of the neighbourhood approach to advancing low-carbon solutions – something that we heard and recognized as part of the TransformTO process.
Acknowledging this, we included "Moblizing Low-Carbon Neighbourhoods" as a key TransformTO campaign in the recent recommendations to Toronto City Council. As one of three acceleration campaigns, it focuses on understanding how to refine and accelerate city-level action within Toronto's diverse neighbourhoods. City Council unanimously approved the TransformTO plan, including the outlined campaigns, earlier this month.
The transit implementation case studies in the Pembina report offer an excellent lesson: Investing in getting things right on the ground level – in ways that eschew the "one size fits all" approach – saves money by avoiding costly delays and helps to avoid feeding backlash against projects that actually have general public support. It also ensures that the system we end up with brings the greatest level of community benefit.
Without a doubt, the transit planning experiences highlighted in the Pembina report will feed into the preparation work for the next phase of TransformTO engagement. Whether it's rapid transit, large-scale energy efficiency retrofits or district energy systems, local support and collaboration is key.