Toronto has made tremendous progress in reducing climate damaging greenhouse gas (GHG) emissions. The GHG Inventory released last week by the City of Toronto showed emissions in 2013 were 24% below the 1990 baseline, a fact which should be celebrated by all Torontonians. This remarkable accomplishment reflects the combined efforts of the City, the Province, individual citizens and businesses, utilities and civil society. Sadly, however, too few of our citizens and business leaders are aware of Toronto's success in the struggle against climate change.  More can and should be done to promote Toronto's leadership in the transition to a low carbon society.
The bad news is that progress in reducing emissions has slowed dramatically. Emissions actually rose 1.6% between 2012 and 2013. This is the first time that emissions have risen since the City began tracking the inventory in 2004. This increase is largely attributable to weather ­— the colder winter of 2013 increased energy-use for heating our homes and buildings. However, emissions increased slightly in other areas as well, including emissions from waste management. The bottom line is that little if any progress was made from 2012 to 2013. In the past, reductions have been driven mainly by the phase out of coal fired electricity, and the implementation of methane capture technology at city landfills. However, these two processes are largely complete and can no longer be relied on to drive progress towards our climate goals.
This underscores the fact that achieving the 2020 target  of 30% below 1990 levels will require ambitious new programs and policies. 2013 emissions were 1.65 million tonnes  above the 2020 target, and the policies and programs currently in play are not enough to close that gap.  TAF has partnered with the City on the TransformTO project launched in 2015, which will develop a short-term strategy for reaching the 2020 target and a long-term approach to reaching the 2050 target. TAF has provided the City with a $100K grant to support this project, in addition to significant in-kind staff support and program expenditures. The findings from TransformTO are not yet available but one thing is certain – bold new actions will be required to achieve the City's climate targets.
2013 Toronto GHG Emissions

A few points about each of the major sources of emissions:
Homes and Buildings (electricity and natural gas)
Energy used in homes and buildings accounts for nearly half of the City's GHG emissions. Now that the coal phase out is completed, emissions from this sector are heavily dominated by natural gas used for heating buildings and hot water. In the past, conservation efforts and funding has been disproportionately focused on electricity conservation. Moving forward, the focus needs to shift increasingly towards conservation of natural gas if we are to continue making progress in reducing emissions from homes and buildings. TAF has provided a $200K grant to support the City's Home Energy Loan Program and High-rise Retrofit Improvement Program, both of which have prioritized natural gas conservation. However, these programs will need to scale-up quickly to have a material impact on City-wide emissions by 2020. This rapid scale-up is unlikely to occur without new conservation incentives from senior levels of government. Thankfully, both the Trudeau Government and the Wynne Government have mused about supporting energy retrofits. The proposed energy reporting and benchmarking policy, which has been endorsed in principal by City Council and is under consideration by the Province, will also be essential to reaching our targets.
Transportation
Transportation emissions are a major area of concern for several reasons. First, while total city-wide emissions are down 24% since 1990, transportation emissions have risen 15%, eroding progress in other areas. Transportation also accounts for the bulk of air quality contaminants which continue to impact public health. Transportation is the one area in which Toronto has failed to make progress in absolute terms. While continued investment in public transit is essential, in the long term electrification of the vehicle stock will be critical as well. A strategy is needed to accelerate adoption of electric vehicles in Toronto and across the Province.
Achieving the 2020 target will require stabilizing, if not reducing, transportation emissions, but Toronto currently lacks the information to understand whether transportation emissions are trending up or down, and what forces are driving the trend. While Toronto is a leader in collecting the traffic data needed to estimate emissions, staff capacity is currently not available to process the data and update the city-wide traffic database.
As a result, transportation emissions estimates have not been updated since 2008. This is a shame because an updated traffic volume database would be useful for many other purposes beyond updating the GHG inventory — for example in planning and prioritizing investments and programs to reduce congestion.
Waste Emissions
Improvements in waste management account for almost half of the GHG reduction achieved since the 1990 baseline. This was largely the result of the implementation of methane capture and destruction technology at the City's landfills, a process which has been completed. Estimated waste emissions rose almost 6% from 2012 to 2013, highlighting the fact that new strategies are needed to reduce waste emissions. The City's Long Term Waste Strategy, currently under development, should help to identify and prioritize options. The Province's proposed Waste-Free Ontario Act may also have a major impact on waste emissions over the long-term, and these changes need to be taken into account in the City's waste strategy.
Tremendous progress has been made in reducing GHG emissions since the 1990 baseline, but continued leadership and bold new actions will be required to achieve the 2020 and 2050 targets. Even as we celebrate our success, we must redouble our efforts and develop a new vision for a low-carbon future.
1990 vs 2013 GHG Emissions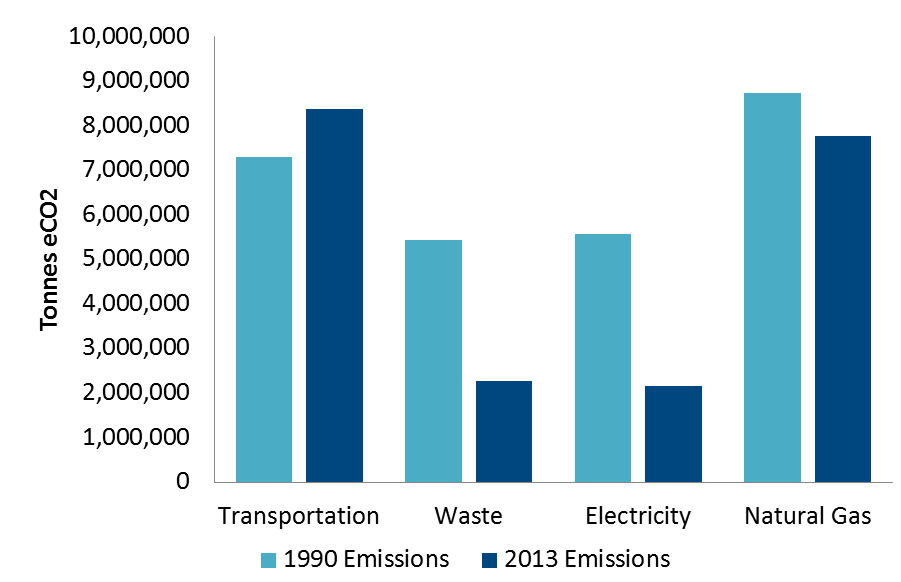 Emissions vs. Targets (Mt)