Na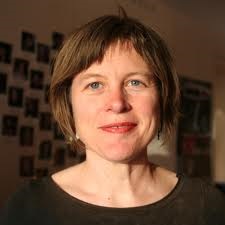 ncy Smith Lea is the Director of the Toronto Centre for Active Transportation at the Clean Air Partnership.
The Toronto Centre for Active Transportation (TCAT), a project of Clean Air Partnership, just held a launch event at Ryerson University to celebrate its new book, Complete Street Transformations in the Greater Golden Horseshoe Region.  The book was a joint project between TCAT, Dr. Raktim Mitra, Assistant Professor, School of Urban and Regional Planning at Ryerson University and Dr. Paul Hess, Associate Professor, Department of Geography and Planning at the University of Toronto, with funding from the Government of Ontario through the Places to Grow Implementation Fund.
The book features nine projects from municipalities throughout the region which involved redesigning streets to make more space for one or more of pedestrians, cyclists, or transit riders. Streets in Brantford, Guelph, Hamilton, Kitchener, Markham, Peterborough, Richmond Hill, Toronto, and Waterloo are featured in the book, and demonstrate the many forms that Complete Streets can take. Street redesigns range from the simple addition of painted bike lanes, to multi-million dollar transit projects. Most include expanded sidewalks, streetscaping, or new safety or accessibility features to encourage pedestrian activity.
No two street designs documented in the book are the same and the context for each is deliberately quite varied. In each case, a variety of photographs, illustrations and infographics tell a story of how each street was redesigned, and the results of these changes.
Since Complete Streets are so varied, still the exception rather than the norm, and as such not yet well understood, the book looks at evidence from before and after changes were made to each street, to determine how successful the examples have been at meeting key goals.
This is the third in a series of publications to understand Complete Streets in the Greater Golden Horseshoe that TCAT has produced in partnership with Dr. Mitra and Dr. Hess. In 2014 TCAT released the Complete Streets Catalogue that provided an overview of 19 Complete Streets in the region, and in 2015 a Complete Streets Evaluation report that proposed an evaluation framework to assess the effectiveness on Complete Street projects. That framework consisted of outputs (what gets built) and outcomes (the effects or impacts observed resulting from the outputs).
In TCAT's new book we used our previously developed evaluation framework to organize the featured projects according to four key goals that Complete Streets aim to achieve:
Increasing sustainable and active transportation: we expect to see more people walking, cycling and using public transit
Improving safety: we expect there will be decreased severity and frequency of collisions
Improving level of service for users of all modes: these streets should be more comfortable and pleasant to use for pedestrians, cyclists and transit users (currently level of service for transportation projects only looks at motor vehicle delay)
Improving the surrounding environment: with more people walking, cycling and taking public transit we expect to see a whole host of broader impacts including improved air quality, reduced urban heat island effect, lower noise levels, reduced obesity and chronic diseases, a more robust local economy, etc.
The book's authors found that in order to truly understand the magnitude of the benefits of roadway improvements, more needs to be done across the region to more systematically evaluate projects using comparable measures. However, it's important to note the goals listed above for Complete Streets are highly ambitious (especially #3 and #4), and difficult to track for individual street projects. It's also not reasonable to expect a higher level of evaluation for Complete Streets projects than we would for other transportation projects.
Nevertheless, together the streets profiled in the book paint a compelling picture of how Complete Streets can change our cities and towns for the better.