Today the Atmospheric Fund (TAF) announced its latest investment, intended to clean up municipal and industrial wastewater in the Greater Toronto and Hamilton Area (GTHA), and reduce carbon emissions while doing so.
TAF's C$1 million investment in CLEARAS Water Recovery, through the Montcalm Capital Fund I LP, aims to commercialize a proven climate solution for wastewater. CLEARAS has created a non-chemical solution for cleaning wastewater: algae and captured carbon dioxide get added to wastewater, in a closed greenhouse-like controlled environment. The algae grows, consuming carbon, nitrogen and phosphorus in the process. The end result: clean water, algae for fertilizer, and reduced carbon emission.
The CLEARAS technology meets the strictest U.S and Ontario Water Resources Act wastewater regulations at significantly lower cost than the alternatives. With significant market penetration, this technology could reduce 1.5 million tonnes of carbon emissions in the GTHA over the next 20 years.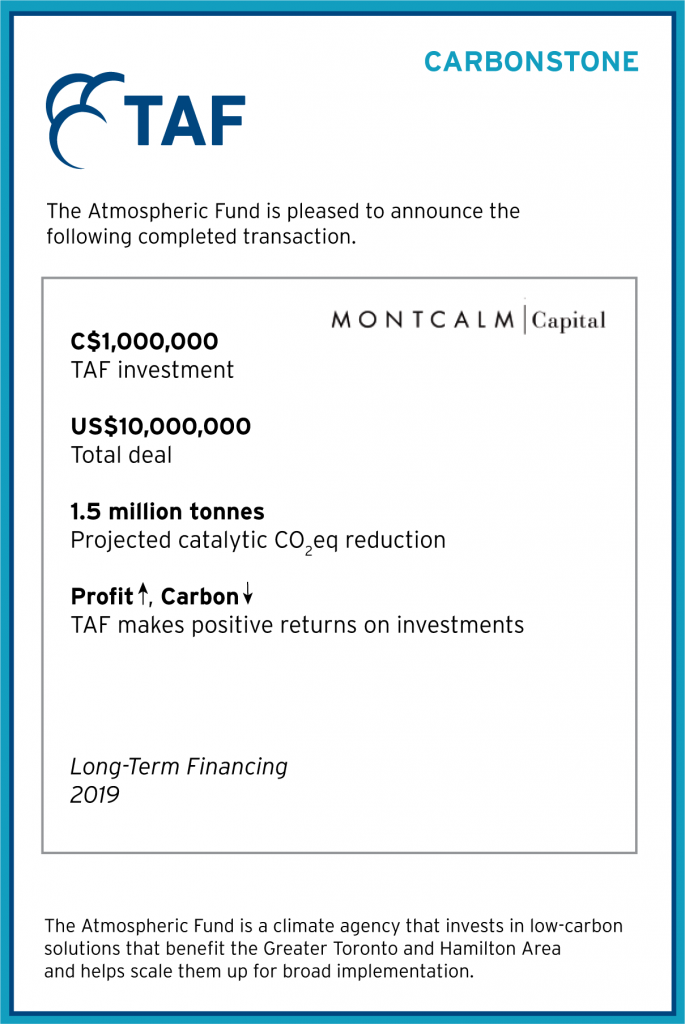 "TAF is pleased to be the first Canadian funder of this innovative company which is leveraging a further US$9 million. This investment will help commercialize a carbon-reducing technology and catalyze greater investment in low-carbon solutions," says Tim Stoate, VP of Impact Investing.
– 30 –
NOTES TO EDITORS
About The Atmospheric Fund
The Atmospheric Fund (TAF) is a regional climate agency that invests in low-carbon solutions for the Greater Toronto and Hamilton Area and helps scale them up for broad implementation. We are experienced leaders and collaborate with stakeholders in the private, public and non-profit sectors who have ideas and opportunities for reducing carbon emissions. Supported by endowment funds, we advance the most promising concepts by investing, providing grants, influencing policies and running programs. We're particularly interested in ideas that offer benefits in addition to carbon reduction such as improving people's health, creating local jobs, boosting urban resiliency, and contributing to a fair society.
About Montcalm Capital
Montcalm Capital is an advisory and investment firm dedicated to the success of companies delivering beneficial environmental and social impact. Through the Montcalm Capital Fund I LP, Montcalm provides innovative capital solutions that support the long-term sustainability of inspiring companies. Our investment opportunities are well-suited for a wide range of investors seeking financial returns with transparent and positive impact. Montcalm is transforming the flow of capital to provide prosperity for all stakeholders. Montcalm is proud to have CLEARAS Water Recovery as the firm's first investment.
About CLEARAS Water Recovery
CLEARAS Water Recovery delivers biological-based wastewater treatment solutions for nutrient recovery. Municipal and industrial dischargers leverage Advanced Biological Nutrient Recovery (ABNR™) technology to cost-effectively recover phosphorus, nitrogen, and other constituents. As a bolt-on solution, ABNR™ enables customers to realize resource recovery across the treatment cycle. Benefits include reuse-quality water, recycled carbon dioxide, and a valuable plant-based biomaterial.
FOR MORE INFORMATION
Estelle Taylor,
Communications Manager, TAF
etaylor@taf.ca, 416 393 6382