[October 2019: The government has decided not to bring forward a Green Button regulation as described below. It is currently considering how to proceed with implementing Green Button.]
Tracking how you spend your money can easily help you reduce your expenses, research shows. It's the same for energy consumption; knowing how much electricity, natural gas, and water you use and when can help you make smarter energy choices. That's why providing consumers with energy usage information in an easy and downloadable way is an important approach to reducing energy spending and carbon emissions.
When consumers have access to real-time energy consumption data, they can immediately take steps to reduce their energy usage, such as reducing their temperature settings when they aren't at home. The data can also help consumers opt for long-term efficiency solutions, such as upgrading windows and heating equipment. Household energy efficiency savings from real-time data can be as high as 12 per cent, research shows.
But how do you make energy usage information accessible to utility customers to affect behavioural change? This is where the Green Button initiative comes in. Launched in the United States in 2012 in response to an Obama administration call to action, Green Button is a framework that allows utilities to provide consumers with access to their data either through a direct download or through a third-party application.
The good news: Green Button is coming to Ontario as well! Here's a handy infographic that shows how the system works: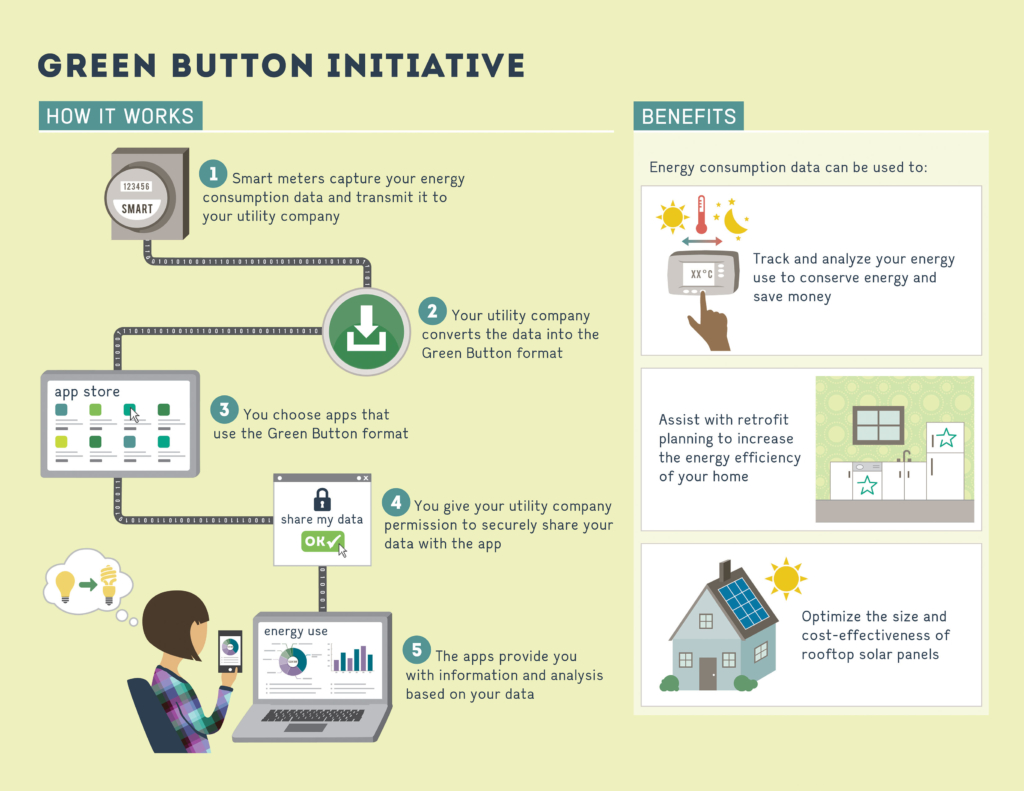 Seeing the success of the Green Button initiative in the U.S., the Ontario Government wants to bring this tool north and released a proposal for public consultation in November 2017. The Green Button implementation forms part of the Ontario Long-Term Energy Plan: The regulation is expected to come into effect in early 2019, with compliance of the program by utilities required by July 2020.
The Atmospheric Fund (TAF) supports the Green Button initiative as it will empower Ontario residents to better manage their energy consumption. To this end we provided advice and recommendations for the program throughout several points of the policy-making process, drawing on our experience in the development of the mandatory Energy and Water Reporting and Benchmarking rules. TAF experts also participated in a stakeholder workshop and provided formal written comments on the draft regulation in partnership with the Building Energy Innovators Council, a new building energy efficiency industry association.
Ontario's Green Button rollout is timely, given the considerable growth in popularity of initiatives that help consumers be more energy-efficient – collectively referred to as demand management programs – worldwide. The Green Button initiative is part of this trend with over 50 participating utilities and electricity suppliers in North America and Europe. Their participation ensures that over 60 million homes and businesses will be able to securely access their own energy information in a standard format.
The program is divided into two separate ways for consumers to access their data:
Download My Data allows energy customers to download their energy usage in a universal format directly from the utility's webpage via a secure log-in. For Ontario building owners, Download My Data will facilitate compliance with the new energy and water reporting benchmarking requirements recently introduced by the province.
The second component of the program is Connect My Data. This tool allows customers to grant third party-applications the permission to access their data to provide a variety of energy consumption and conservation services.
Third-party applications can vary from personalized advice to homeowners to reduce energy use to rewards programs that provide financial incentives for energy efficient retrofits. The demand is clearly there: A survey in the U.S. found that almost half of respondents are interested in third-party applications that support energy reduction through rewards, advice or other means.
It is important that these third-party applications are vetted to ensure that your energy data is kept confidential and secure. Ontario's Green Button program and respective third-party applications are required to abide by the privacy by design standard. Furthermore, when data is transmitted directly to customers or through third-party applications, the utility company is required to establish a secure-transmission process and the data itself cannot contain any personally identifiable information.
Green Button helps home and building owners to take control of their own energy consumption and be more active participants in the energy sector. Rolling out the Green Button Program province-wide is a critical step to providing energy customers with access to energy consumption and spending data. With improved energy efficiency in our homes and buildings, we can cut carbon emissions and get closer to our municipal, provincial and federal climate targets.