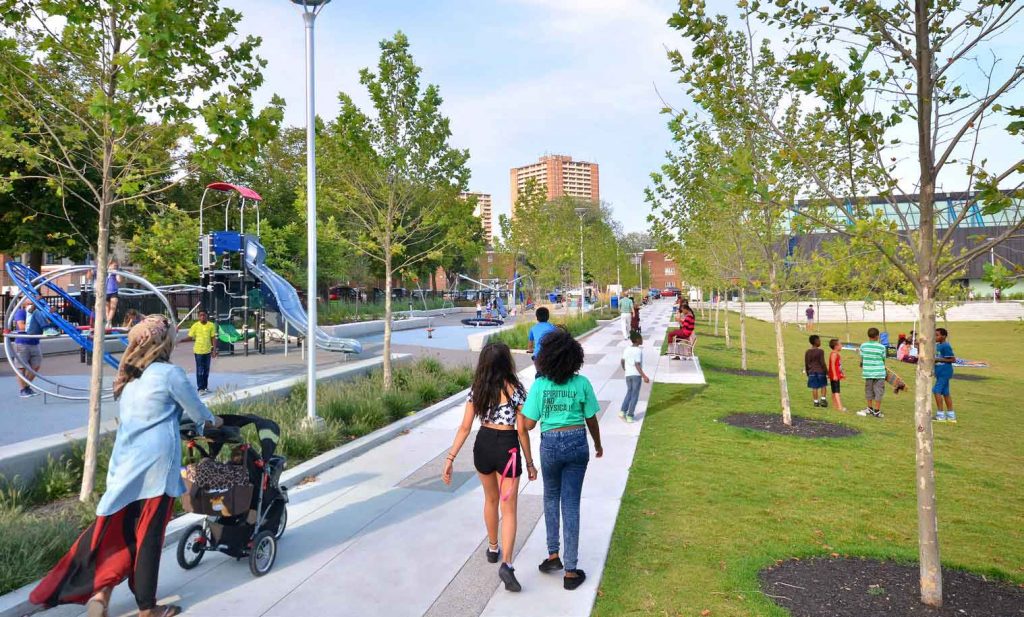 Your community deserves greener new buildings
Municipal development standards for new buildings
Municipalities set building standards to ensure new construction is environmentally, socially, and economically responsible. Effective, mandatory standards in the Greater Toronto and Hamilton Area will ensure: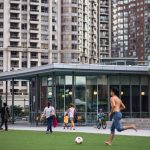 Low-carbon growth
Cities and towns in the GTHA are growing fast and buildings are the number one source of carbon pollution. Green Development Standards are the most powerful climate action municipalities can take.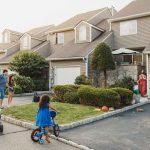 Healthy homes and communities
Responsible, future-focused development creates vibrant communities, and healthier, more comfortable indoor environments. Local economies get a boost from green job creation.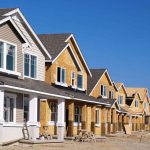 Affordability
Quality buildings cost less to operate, especially as energy and carbon prices increase. Building energy efficient new homes now is far more cost-effective than retrofitting them down the road.
We need to lead by example to ensure design and construction of buildings support carbon reduction and healthy, sustainable, communities.
Key recommendations for the strongest standards
Take action
Toronto, Halton Hills, Whitby, Ajax, Markham, Vaughan, and Brampton are the only municipalities in Ontario with mandatory standards. Many other municipalities are actively pursuing new or better standards after declaring climate emergencies, so if your municipality is not on the list, write to your city councillor to let them know you want low-carbon, affordable, quality buildings.
FAQs
What's involved in complying with municipal development standards? What makes these buildings different?

Buildings built to green standards feature quality doors and windows, water efficient fixtures, good insultation, high-efficiency heating and cooling, and airtightness with good ventilation. ​These technologies and techniques are readily available.
Do cities have the legal authority to implement municipal development standards? 

Absolutely. Municipalities make community planning decisions every day and Green Development Standards are no different. GDS use those municipal planning authorities to ensure that better homes and communities are designed for its residents. The Toronto Green Standard was introduced in 2010 and has not been challenged (and Toronto has no unique authorities in this regard).
How much more does it cost to build healthy, green, energy efficient homes? Who pays the premium? 

Cost varies depending on the building type and community-specific Green Development Standards, but typically it's no more than a 3% incremental cost for the developer. The developer may or may not pass on some or all of this to the initial purchaser depending on local market conditions.
Who benefits most?

Consumers and communities benefit most. Quality homes save on monthly utility bills and increase indoor health and comfort for the people who live in them. Many homeowners and tenants suffer from poorly built homes that are expensive to operate and uncomfortable to live in. With energy efficiency regulations for existing buildings needed soon, investing in quality new construction up front prevents expensive retrofits for consumers down the road.
Which cities already have them in the GTHA?

The City of Toronto, Town of Halton Hills, the Town of Whitby, and the Town of Ajax are the only municipalities in Ontario with tiered, mandatory standards. The cities of Brampton, Markham, and Vaughan use a points-based approach to green standards, with a menu of compliance options but no mandatory requirements. Many other municipalities are actively pursuing new or better Green Development Standards after declaring climate emergencies.
Is there an exemplary standard?

The Toronto Green Standard is a leading standard in the GTHA due to its streamlined approach, incentives for exceeding minimum requirements, and predictable roadmap for industry. Carbon intensity requirements provide a clear pathway to net-zero emissions in 2050.
Who opposes municipal development standards?

Some developers oppose these building standards because of the incremental cost. Municipalities regularly consult with local developers when creating or updating green standards. The regulations can be designed to be flexible for developers, as long as they ensure uptake and are effective at reducing carbon and developing efficient, economical buildings.
What are the local economic benefits?

Smart, responsible development creates thriving and connected communities built for the future, with easy to access greenspaces, and healthier homes with better air quality and comfort. Local economies get a boost from developing green job skills for green construction, and creating savings that generally stay in the community. These buildings are also more resilient – they resist flooding, perform better in extreme temperatures and weather.
Other Resources