Sometimes complex issues require surprisingly simple solutions. When it comes to tackling climate change, burning fewer fossil fuels through more energy efficient buildings is one straightforward way to rein in carbon emissions. While the energy savings-carbon savings link has always been well known, the extent to which energy efficiency creates jobs and grows our economy is less known. Until now.
Last month a new national organization, Efficiency Canada, launched with the release of a trailblazing report on the link between jobs and GDP and energy efficiency in Canada. Its Executive Director Corey Diamond shares some key insights in this guest blog for The Atmospheric Fund.
What Data Did we Look At?
Energy efficiency can create both jobs and economic growth, but what are the exact impacts? Together with Clean Energy Canada, Efficiency Canada worked with Dunsky Energy Consulting to model the net economic impacts of energy efficiency measures in the Pan-Canadian Framework (PCF Scenario). The project team also modelled what the impacts would be if we went a step further, implementing the most ambitious efficiency goals found in jurisdictions across North America (we dubbed it the PCF+ Scenario). These measures include Canada-wide commitments to strengthen building codes, increase the rate of energy retrofit activity, improve equipment standards, ramp up industrial energy efficiency, and support housing renewal in Indigenous communities.
The model considered the net impact of the policy change on Canada's GDP and employment levels between 2017-2030. To assess the net impacts, we looked at both job gains in areas such as construction and job losses that could result from fewer energy sales.
We All Save…
The first step in understanding the economic model is looking at the energy savings yielded from adopting the measures as laid out in the Pan-Canadian Framework. Here's what we found: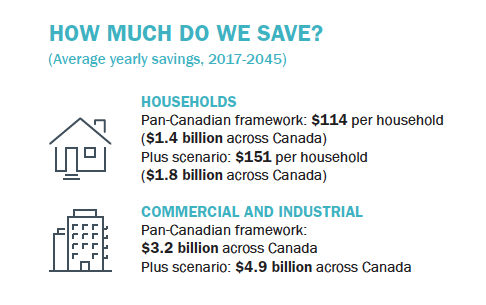 …Which Leads to GDP and Jobs Growth…
The second step of our analysis was to determine the economic impact resulting from these energy savings. The GDP and jobs growth shown in the map below are a result of two outcomes:
Direct job growth: When there is more energy efficient activity, construction, engineering, and the renovation sector add capacity to meet the demand.
Ripple effects: When we cycle the energy savings back into the economy, households spend more, businesses re-invest, and industries improve their energy productivity.
The findings are very promising in this scenario:
In total, Canada's GDP would get a one per cent boost over the next 14 years
Every dollar invested in energy efficiency improvements generates seven dollars of GDP growth
The Canadian economy would add an extra 118,000 jobs each year, on average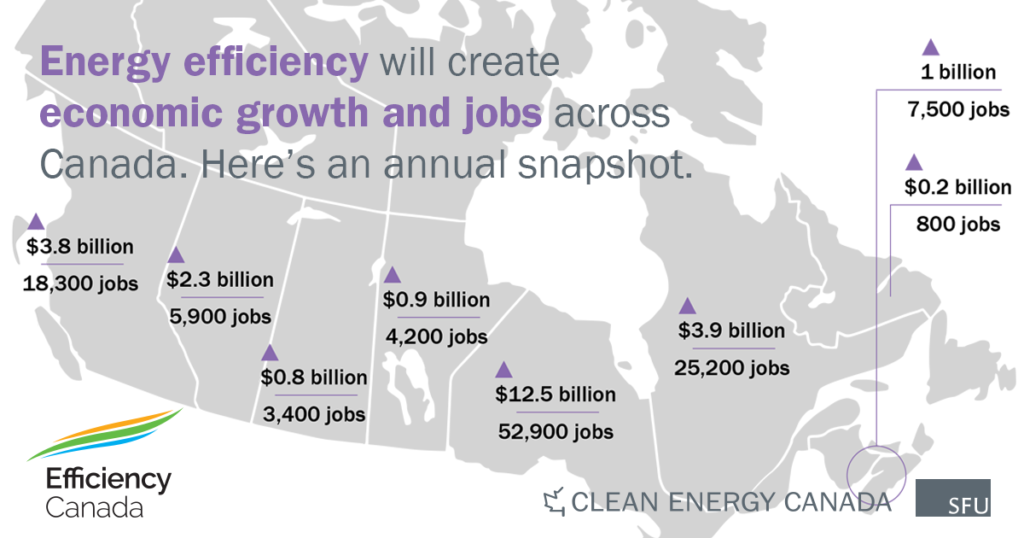 …And Climate Benefit.
Based on December 2017 emissions projections, we need to cut carbon emissions by 205 million tonnes to meet the federal government's 2030 climate target. Our PCF Scenario modelling predicts that energy efficiency measures can cut carbon emissions by an impressive 52 million tonnes by 2030, as they help reduce the consumption of electricity, natural gas, and refined petroleum products like heating oil. That's one-quarter of Canada's Paris climate commitment.
Those reductions could be even greater. Our PCF+ Scenario shows an estimated 79 million tonne reduction by 2030—or nearly 40 per cent of Canada's Paris climate commitment.
Energy Efficiency Works!
From an economic perspective, it's clear that it's time to get moving on adopting aggressive energy efficiency policies at the municipal, provincial and federal level. Organizations such as The Atmospheric Fund (TAF) are pioneers in local energy efficiency through retrofit demonstrations and working with policy-makers on all levels of government. As a member of the TAF Board of Directors, I see the importance of energy efficiency work first-hand.
Now we need more, not less energy efficiency activity across the country – and Efficiency Canada adds an important voice in this area. Together with our partners such as TAF, Efficiency Canada will advocate, convene and communicate the key role energy efficiency plays in our economy. Follow us on Twitter and through our website to stay on top of our activities!
---
Corey Diamond is the Executive Director of Efficiency Canada, the national voice for an energy efficient economy. Corey also serves on the Board of TAF and chairs the Grants Committee.