This is the first in a series of blogs offering a 'behind the scenes' look at TAF's deep retrofit work at a Toronto site.
TAF's first deep energy efficiency retrofit is underway. On Wednesday I was on site with our project engineers, and I must say, this is not your average retrofit. Let me explain.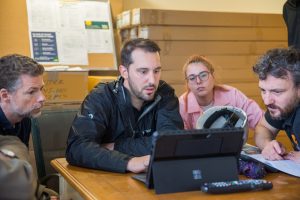 We're working with Toronto Community Housing to demonstrate the benefits and viability of a multi-residential retrofit targeting a 40 per cent reduction in emissions and energy consumption. With this retrofit of 120 electrically heated townhouses, we'll install cold climate air-source heat pumps (ccASHPs) paired with occupancy-sensing thermostats.
The first batch of heat pumps arrived this week. At the meeting I was able to see the installation of the first outdoor condensing units, indoor heads, and occupancy-sensing thermostats.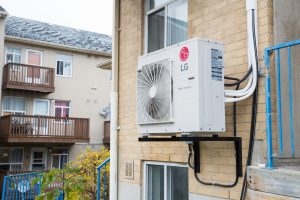 It's taken months and months of planning and analysis to get to this point, but construction has officially started.
Residents are excited about efficient heating and cooling
Residents pay their own utilities at the site, and heating with the existing electric resistance baseboards can result in high wintertime hydro bills that result in some residents turning off their heat. Our pre-retrofit survey of residents from across the site revealed that 41 per cent of residents felt every room in their home was "too cold" in the winter. This is one of the issues we aim to address as part of the retrofit.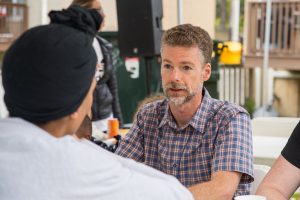 The ccASHPs also provide efficient cooling, which will not only improve resident comfort, but will also help mitigate the effects of increasingly frequent extreme heat events. We know that prolonged exposure to high temperatures can have negative health impacts, and extreme heat events in Toronto are becoming more frequent.
Although some residents have installed their own air-conditioners in an attempt to stay cool in the summer, these are window-shaker or portable units of questionable efficiency and usefulness. TAF monitored interior temperatures over the summer of 2018 to document pre-retrofit conditions. Even though most of these suites had portable air conditioners in use, interior temperatures were at or above 26°C over 36 per cent of the time. Our survey of residents at the site found that 67 per cent felt that every room of their home was "too warm" during the summer months.
Deep retrofit aims to help residents and the environment
We're undertaking this retrofit to achieve multiple benefits. We aim to:
Reduce carbon emissions and energy and water consumption at the site
Reduce utility costs for residents while providing greater thermal comfort and control
Improve indoor environmental quality (IEQ) for residents
Demonstrate the effectiveness of a multi-residential heat pump retrofit in a cold climate
Gather information from the project that will inform future retrofits and support TAF's retrofit scale-up efforts
Create local green jobs, including for those facing barriers to employment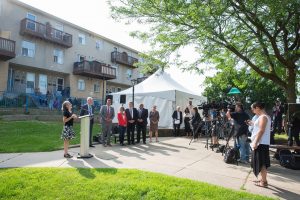 This phase builds on successful pilot
Before initiating the full retrofit, we conducted a pilot project at the site with 16 townhouses, eight where we had ccASHPs installed, and eight that we monitored as a control group. The heat pumps were installed and commissioned by April 2018, and the participating homes were sub-metered for heating electricity consumption with additional monitoring equipment installed to track interior temperatures and humidity.
Heat pump was effective but we need to watch for 'rebound effect'
With the pilot we were able to demonstrate the effectiveness of the ccASHP in providing 100% of the winter heating needs, obtain resident feedback on the technology, and determine potential energy savings for a full retrofit. The pilot was a success, with some interesting results:
The heat pumps had no difficulty providing adequate heat through the winter, with one pilot participant maintaining average interior temperatures of 27°C throughout the entire heating season. (The need to maintain reasonable indoor temperatures will be a key component to our resident engagement and training initiatives.)
Residents found the standard controls provided with the heat pumps (hand-held remotes in this case) to be non-intuitive and confusing
Heat pump heating energy savings was significant (36-66%) when compared to the energy required to provide the same amount of heat via electric baseboard
Residents loved the air conditioning and dehumidification provided by the ccASHPs
On average, residents with heat pumps kept their homes 1.4°C higher in the winter than their electric baseboard counterparts
The increase in interior temperatures for the heat pump townhouses is an interesting real-world example of the notorious "rebound effect" — the increase in energy consumption that is sometimes seen with the introduction of high-efficiency equipment. Communication with residents is the key to preventing this unintended increase in energy use. So with this new project, every resident will receive individual training on use of their new equipment, and this training will highlight the need to operate the ccASHPs at reasonable temperatures in order to fully realize their savings potential. The use of motion sensor controls will also help ensure that reasonable temperatures are maintained when spaces are unoccupied.
Wednesday was just the beginning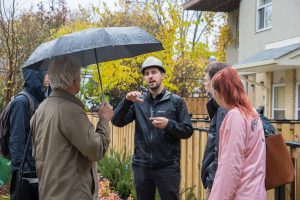 The retrofit that started this week should take a few months in total. After installation of the heat pumps, we will run multiple monitoring and research initiatives as part of the project, including monitoring of IEQ (temperature, humidity, carbon dioxide, fine particulates [PM2.5], and volatile organic compounds [VOCs]), sub-metering of heat pump equipment, and exploring, quantitatively as well as qualitatively, the benefits of occupancy sensors in a multi-residential environment.
Although I was pleased to get out of Wednesday's rain, I am looking forward to getting back on site soon to learn how the retrofit is progressing. And to report back to you.
Check out more posts from the retrofit diary series.
---
The current 'deep retrofit' phase of our TowerWise project is made possible through the financial support of:
The Green Municipal Fund, a Fund financed by the Government of Canada and administered by the Federation of Canadian Municipalities
The Independent Electricity System Operator
The National Housing Strategy under the NHS Demonstrations Initiative of Canada Housing and Mortgage Corporation
Natural Resources Canada