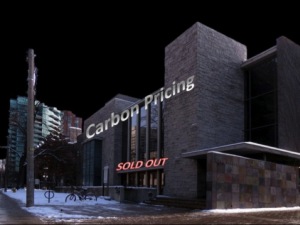 Last Tuesday night, I went to an event at the Isabel Bader Theatre on the University of Toronto's downtown campus. To my surprise, the theatre's 300 seats were all taken, and anyone showing up without a ticket was being turned away at the door. You'd be forgiven for thinking that all the hubbub was about a new must-see play opening to rave reviews, or maybe a famous local indie band making a rare Toronto appearance. But no – the crowds had braved the numbing cold to hear a panel of experts talk about carbon pricing.
That's right. Carbon pricing.
Specifically, the panel – organized by For Our Grandchildren, Citizens' Climate Lobby and U of T's School of the Environment – was debating how the Ontario government should move ahead with a regulatory scheme that puts a price on greenhouse gas (GHG) emissions and encourages citizens and businesses to reduce their carbon impact.
Some panel members were backing a carbon tax (or carbon fee) system, which places a levy on the carbon content of fossil fuels (e.g., in electricity, natural gas, vehicle fuels). Other panel members favoured a cap-and-trade system, which would place a limit on the total amount of carbon that can be released and issue emissions "permits" that firms can trade on a market.  A third camp was pretty neutral as to which way Ontario should go.
The expert panelists – which included a climate and energy researcher, an economist, a sociologist, a cap-and-trade executive, a lawyer, and a clean economy advocate – made some convincing arguments for both systems by drawing on economic theory and real-world examples.
The most interesting part of the whole evening, however, was that so many people were interested in hearing the finer points of carbon pricing policy. Until very recently the design elements of carbon pricing systems were the preserve of policy wonks and enviro-geeks. Now the topic is making national headlines and packing theatres with people from many different walks of life.
What's going on here?
The reason behind this flurry of activity is that the Ontario government is getting serious about the issue. Seven years after committing to pricing carbon pollution alongside BC, Quebec and California – and after all three other jurisdictions have moved forward – Ontario finally seems ready to introduce a mechanism of its own.
Last month Premier Wynne announced plans to introduce an Ontario carbon pricing system and Environment Minister Glen Murray is expected to issue a discussion paper on the topic imminently. This is welcome news since an effective carbon pricing regime could take us a long way towards achieving both Ontario's and Toronto's long-term GHG reduction targets.
At the same time, a well-designed strategy would provide predictability to guide business investment decisions and ensure our economy's long-term competitiveness in a world where concern over climate risk is growing stronger. That's why carbon pricing has been endorsed by multiple industry groups, including the Canadian Chamber of Commerce.
And the timing couldn't be more critical. With BC, Quebec and Alberta already on board with carbon pricing systems (albeit with differing levels of ambition), a new regime in Ontario would mean that our four largest provinces – and the vast majority of Canada's economy – are covered by carbon pricing.  This critical mass could help accelerate the discussion about how to tackle climate change at the national level in a year that will see a federal election followed by crucial global climate change negotiations in Paris in December.
Now is the time to get informed about Ontario's options. Global experience has proven that when it comes to carbon pricing, the devil is in the details. In Ontario, we need smart policy design to ensure carbon pricing achieves its objectives. TAF will be keeping a close eye on the latest developments and giving you the information you need to be part of the conversation.
Stay tuned for more blogs on this important topic.